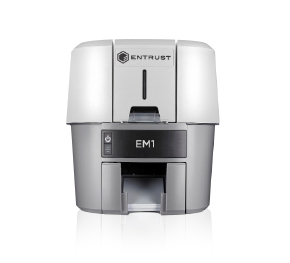 Entrust EM1 Direct-to-Card Printer
$1,550.00
Product Features:
The Entrust EM1 Direct-to-Card Printer is all about value and versatility. With 300-dpi full-colour or monochrome printing and secure card encoding capabilities, it's the perfect budget friendly printer for a variety of applications such as:
Small Footprint
Allows users to work effectively in any location or workstation size.


Easy-to-use
Anybody can use it, not just the service techs.


Efficient
Print up to 660 single-sided monochrome cards per hour; 175 full-colour single-sided cards per hour.


Affordable
The EM1 card printer and its supplies are competitively priced to fit modest budgets.


Secure card option
Smart card and magnetic stripe encoding options allow you to create secure ID cards to give authorised users secure access to facilities, networks, and other privileges.


Bundle Offer:
Includes the following:
EM1 Simplex USB Card Printer (125 Card Hopper)
Entrust Instant ID Plus Software
250 x Plain White Cards
1 x YMCKT Colour Ribbon (250 Full Colour Cards)
12 Months Software Service Support
24 Months Warranty
Webcam Optional Extra


Download Datasheet


*Pricing is for the standard model. If you require magnetic stripe encoding or Smart Card upgrade kits, please contact IDentiTech directly for a quotation.


* All pricing displayed includes GST 10%. Freight is calculated and applied at checkout with your items.