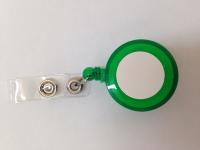 Mini Green Retractable Reel
$0.50
Mini green retractable reel with belt clip to attach to clothing.
Comes with white sticker attached to the front for personalisation.
This product is sold individually.
SKU N/A

* All pricing displayed excludes GST 10%. Freight is calculated and applied at checkout with your items. GST 10% is added to the final price of your purchase at checkout.