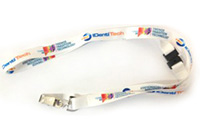 Custom Printed Lanyard
Custom printed lanyards are an excellent branding exercise.
IDentiTech can assist you with custom printed lanyards with range of different fabrics and printing options.
You can choose from a range of fittings, fabric thickness and length, so you can ensure you get the product that best suits your needs.
IDentiTech can provide a range of custom printed lanyards for quantities starting at 50 units.
Contact IDentiTech today for a quotation.
SKU TLNC

* All pricing displayed includes GST 10%. Freight is calculated and applied at checkout with your items.