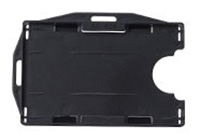 Card Holder Double Sided Black
$55.00
An open-faced card holder that can be hung vertically or horizontally.
This product holds one standard plastic card on one side and up to two standard plastic cards on the reverse. Or, it can hold a clamshell prox card on the reverse.
This product is sold in packs of 50.
1 pack of 50 = $55.00
Please choose the number of packs you would like to purchase below.
SKU RCD02K

* All pricing displayed includes GST 10%. Freight is calculated and applied at checkout with your items.