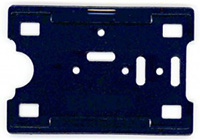 Card Holder Single Sided
$47.50
$47.50
$47.50
$47.50
$47.50
$47.50
$47.50
Suitable for a single standard plastic card. Open faced and best suited to horizontal display of cards.

1 pack of 50 = $47.50

Select the quantity of packs you would like to purchase below.

Please note: If you choose the option with detachable clips, these clips are packed separately and will have to be attached after purchase.
SKU RCCH01
SKU RCCH01
SKU RCCH01
SKU RCCH02
SKU RCCH02
SKU RCCH04
SKU RCCH04

* All pricing displayed includes GST 10%. Freight is calculated and applied at checkout with your items.