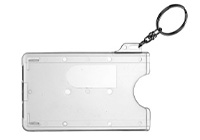 Fuel Card Holder
$47.50
This holder is closed-faced with a small cut-out to remove the card.
It includes a key ring on a short chain.
This product is sold in packs of 50.
1 pack of 50 = $47.50
Please choose the number of packs you would like to purchase below.
SKU KRCH45

* All pricing displayed includes GST 10%. Freight is calculated and applied at checkout with your items.