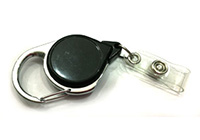 Retractable Reel – Carbineer Hook
$82.50
A strong top latch attaches this reel onto clothing where a belt-clip is not considered secure enough.
Available in black.
This product is sold in packs of 50.
1 pack of 50 = $75.00
Please choose the number of packs you would like to purchase below.
SKU MRC01K

* All pricing displayed includes GST 10%. Freight is calculated and applied at checkout with your items.