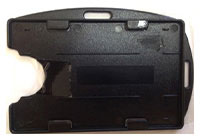 Card Holder Single Sided
$55.00
An open-faced card holder that can be hung vertically or horizontally.
This single card holder is open-faced and displays cards as either vertical or horizontal. It will hold a single standard plastic card but unlike RRCH01 it has a solid back.
This product is sold in packs of 50.
1 pack of 50 = $55.00
Please choose the number of packs you would like to purchase below.
SKU RCD01K

* All pricing displayed includes GST 10%. Freight is calculated and applied at checkout with your items.