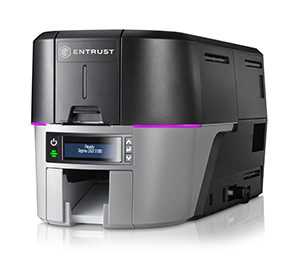 Entrust Sigma DS3
$3,173.94 - $4,097.61
$3,173.94
$4,097.61
Sigma: The next generation of direct-to-card printing
Product Features:
Entrust Sigma ID Card Printers are specifically designed for today's cloud environments and give you the ability to easily issue secure identities.


Simple
From unboxing to issuing ID cards and mobile flash passes to managing your printer, we made sure Sigma was the most user-friendly ID card issuance solution in the world


Secure
Our industry-leading issuance security architecture will help protect your cards and your customers' data during each step of the issuance process


Smart
Forward-thinking technology and scalability allow you to expand your ID card program as your needs evolve


*Pricing is for the standard model. If you require magnetic stripe encoding or Smart Card upgrade kits, please contact IDentiTech directly for a quotation.
SKU
SKU

* All pricing displayed includes GST 10%. Freight is calculated and applied at checkout with your items.