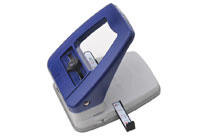 Hole Punch
$70.40
An ideal item to put slots, holes or corners into a plastic card.
The punch sits flat on a desktop and only requires light pressure to punch through the card. It comes complete with a guide so that the holes are always uniform/central.
A handy seal at the base of the punch catches the off-cuts. It will last for thousands of cards.
SKU SLHP03

* All pricing displayed includes GST 10%. Freight is calculated and applied at checkout with your items.