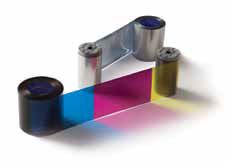 SD160 Colour Ribbons
$123.75 - $157.50
$123.75
$157.50
$157.50
The SD160 Card Printer features system matched Datacard patented ribbons that activate additional features exclusive to Entrust Datacard.
Upon installation, the Datacard proprietory ribbons enable all enhanced product features that help you print high-quality cards more easily.
The SD160 has a unique set of panelised colour ribbons that were created to work exclusively with this printer.
---
Choose the colour ribbon that best suits your needs:
• YMCKT – Full colour with clear overlay, required to protect the print on the card -available 250 yield.
• ymcKT- Short panel ribbon (ideal for printing  full colour on the left hand side of the card, for example company logos or photo.
• YMCKFT- Colour ribbon with UV fluorescent panel and topcoat.
• KTT- Black resin K panel and two Topcoat panels for the front and back of the card.
SKU 534100-001-R005
SKU 534100-001-R005
SKU 534100-002-R005
SKU 534100-003

* All pricing displayed includes GST 10%. Freight is calculated and applied at checkout with your items.